Issue 02
January 2011

Contact Us
Collision Solutions Ltd

Dewan Industrial Estate

York Avenue

Helmshore

Rossendale

Lancashire

BB4 4JG
Telephone 0800 093 8441


---
Our Business Service
Collision Solutions will:
Cause minimum disruption to your business by managing the claim on your behalf.
Recovery of costs involved from the insurer of the 'at fault' driver.
Click here to find out more or Download our Brochure for businesses with multiple vehicles.
---


NICE TO KNOW WE'RE DOING A GREAT JOB FOR OUR CLIENTS
This is a text recently sent to Jim Cullen, Collision Solutions National Accounts Manager:
"Jim, Just wanted to say I am very impressed with the way stacey and crew are dealing with our claims. I do pester them on a daily basis but they are one step ahead of me, so thanks!
Mark, Bodymatters"
ZURICH LAUNCHES TELEMATICS FLEET SCHEME
Zurich
has signed up Trimble to provide telematics for the insurer's new fleet risk management scheme Zurich Fleet Intelligence. Trimble will offer its telematics devices to Zurich customers looking to cut fleet operating costs and reduce crashes.
WEATHER HITS INSURANCE COMPANIES HARD
The UK has experienced some of the worst weather conditions over the past two months. Insurers have reported a soar in car insurance claims, as ice, snow and freezing fog mean calls into claims centres are at an 'unprecedented' level.
Source: Bodyshop Magazine
AUDI A1 NAMED CAR OF THE YEAR
The
Audi A1
was awarded the coveted What Car? Car of the Year accolade at the 34th annual motoring 'Oscars'. The Audi A1, an all-new premium supermini, was named Best Supermini, too, while Audi also picked up the Best Coupé award for the Audi TT.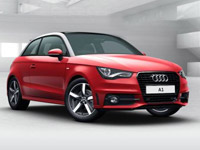 Welcome to the second issue of Collision Solutions' quarterly e-Newsletter.

AN INTERVIEW WITH...



In this issue we interview Roger Green, Claims Manager at Cobra UK & Ireland to find out more about the services that his company offer and how they can benefit your company.
Can you explain briefly what services Cobra UK & Ireland provide?
Cobra UK & Ireland is a commercial insurance broker providing general insurance to small to medium businesses. A large proportion of our clients are involved in Civil Engineering and construction. Although based in Cheshire, we have clients around the country. We also have an office in Abergaveny which services our Welsh clients. My role is that of Claims Manager.

What is your background Roger, has it always been in Insurance?
I've been employed by various types of companies and my forte has always been improving customer service and administrative standards. Prior to joining the insurance industry, I worked for a large demolition company. As our larger clients at Cobra UK & Ireland are generally Civil Engineering companies, the knowledge gained in the demolition world has proved to be very useful, particularly when handling Liability claims.
What excites you about this industry?


Every day is different. One phone call from a client can turn the day or even the week upside down!

How have things changed for the Insurance Industry over the past few years?
Legislation under the FSA (Financial Services Authority) has created more paperwork and more expense. This has resulted in the loss of many smaller independent brokers and the creation of larger national ones.

What set you apart from others?
We at Cobra UKI pride ourselves in the service we offer to all our clients. Our role is to look after their interests and in the claims department, this means ensuring that all claims are handled efficiently and fairly. Unlike most other brokers, we are very hands-on and work alongside insurers rather than just passing the claim to them.

I see from your website that you also offer Business Insurance, if you were to give one piece of advice regarding insurance to a company – what would it be?
Some things in life are worth the gamble, insurance is NOT one of them, you really DO get what you pay for!

CHILDREN'S ADVENTURE FARM TRUST CHARITY DINNER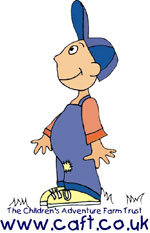 Collision Solutions Director, Lisa Quinn-Jones and COBRA UK and Ireland's Roger Green are organising a charity dinner dance in aid of The Children's Adventure Farm Trust (CAFT). Based in the heart of the Cheshire countryside, the Charity offers free adventure breaks and activities to children who are disadvantaged by illness, disability and poverty, from all over the Northwest.

The event is being held at City of Manchester Football Ground in the Citizens Suite on May 7th. Tickets are now on sale through Lisa or Roger and priced at £55 per head or £500 for a table of 10.

Roger said "This is a great opportunity to have a great evening in a great location and at the same time supporting a worthy, local charity. We have the legendary comedian, Stan Boardman as our main speaker and celebrated local magician, Rick Naylor to entertain you. There will be live music, an auction, raffle, plus a few surprises on the night and of course a fabulous meal".

Anyone wishing to donate items to the auction, reserve either a place or table or for further information about this event can contact Lisa or Roger by emailing media@collisionsolutions.co.uk


Bodyshop marketing - part 1

Over the next four issues of Crash we are enlisting the services of Automotive Marketing Consultant, David Williams to give some pointers on Bodyshop Marketing – in this issue David takes a look at the Fleet Market and how to gain their business.

Feast or Famine!
Most UK body repairers rely on most of their work being referred to them by insurers and accident assistance organisations, such as Collision Solutions. The problem is, insurance work can fluctuate wildly, depending on weather conditions and other factors like downturns in the economy and even fuel prices (affecting the number of vehicles on the road). Unfortunately many of the bodyshop operator's costs – wages, equipment costs, electricity bills, etc. – remain much the same whether the workshop is full or empty. And laying off staff when business is quiet only to re-hire them (if you can!) when work picks up again can be very expensive.

Fleet/Commercial
A market sector neglected by many established bodyshops and yet one which, if cultivated, can produce a regular flow of insurance and non-insurance work throughout the year. The term company/fleet in this context encompasses small businesses with only a couple of vehicles through to multinationals with a local presence, local rental companies, professionals (doctors practices, accountants, solicitors, vets, etc), local authorities and government organisations such as NHS, police and fire services. One small/medium bodyshop in the Midlands, for example, has for the past ten years dealt with an average of five jobs a week from a local county council, who has a relatively small owned fleet but hundreds of staff with leased cars.

Why tackle this market sector?
Insurance work: While some businesses and other organisations will simply leave it to their insurance company to deal with it, many see the advantages of forming a working relationship with a local bodyshop – the convenience and the ease of following up any subsequent problems. Many of the larger companies are, of course, self-insured and so are not open to pressure on where repairs are carried out. Non insurance work: This, of course, is wide open and can range from new livery to repair work.

Defining the local market:
Create a simple database, obtaining information from, for example, Yellow Pages, local newspapers, online directories and so on – not forgetting local knowledge, of course! This is an ongoing job, requiring quite a lot of time to start with but then only needing perhaps an hour a week to maintain and grow.

Each record on the database should contain fields for the following information:
Company Name

Address

Telephone Number

Fax number

Email address

Contact(s) – title/first name/last name/direct phone/email address

Number of cars

Number of lcv's.

Plus any other information which you may consider relevant.
It is unlikely that all this information can be obtained initially, but it is information that will be required at some point in order to run an effective marketing campaign.
Once the database has started to take shape with, say, 100 names and phone numbers, you should use the info to phone and make some appointments to visit. The purpose of the visits is to start to form a business relationship and to obtain more information – useful contacts, fleet size and so on – and to make them aware of the services you can offer.
The purpose of the visit is NOT to CLOSE a sale, but to OPEN a relationship!
It is suggested that the person responsible for this sets aside a half a day or one day a week to visit customers and prospects – and perhaps cold call businesses spotted while out.
It is useful to have a printed flyer/brochure to leave with the prospect – along with a business card.
It is necessary to remind your prospective customer from time to time that you are still around! They may be genuinely keen to put business your way when you first meet, but six months or even six weeks later they may forget all about you. You should therefore make contact with them regularly to remind them. This can be done by means of mailshots, promotional letters, etc., and of course email flyers – inexpensive and effective, if you have gathered the right details – contacts, email addresses on your database.
There is a natural inclination, when work is plentiful, to put off marketing: "Oh, I'll have a look at it when things quieten down".
This is a mistake. If business dries up and you're hunting for work, so are your competitors!
DO IT NOW!

THE ULTIMATE DRIVE, OR IS THAT FLIGHT?
It's easy to fly, it takes normal petrol and it actually exists.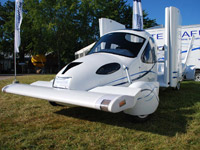 An American company called Terrafugia will go into production on its Transition Roadable Aircraft – a genuine, non-delusional, you-can-actually-buy-it-and-it-actually-flies flying car. It looks a bit like something out of a cartoon with fold-out wings, and will cost something between £125,000 and £160,000. Orders are being taken now for a $10,000 deposit. But with an estimated production of around 200 this year it may be a while before delivery. However, it takes normal fuel from the petrol pump, has a flying range of 500 miles (so London to Zurich for example) before refuelling and could be the answer to the executive nightmare of delays at the airport or train station. Another plus point is that you only need to have 20 hours of flying experience to fly the Transition.

It will be interesting to see whether it is a bodyshop or an aircraft hanger that deals with it if the driver/pilot is involved in an accident whilst on a road trip!


PEUGEOT ANNOUNCES ION ELECTRIC CAR DELIVERY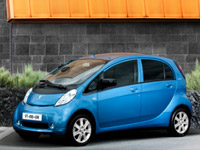 The first Peugeot Ion car in the UK has been sold and delivered to EDF Energy for use in its fleet including testing recharging solutions.
The Peugeot Ion is one of the first of the latest generation four-seat urban electric cars to go on sale in the UK this month. It has a potential range of 93 miles and can be recharged from a standard domestic plug in around six hours, or via a quick charger in under an hour. It is the ever-increasing fossil fuel costs and the need to reduce CO2 emissions which has made electric cars a viable modern alternative option for "urban" transport
Source: Fleet News


DOES YOUR COMPANY NEED TO SAVE MONEY? ARE YOU A FLEET MANAGER?

Did you know that your fleet's fuel consumption and cost could be reduced by ten percent, and by sending your drivers on a course in driving techniques could help achieve this.

Highways Driver Training is a company that specialises in driver training and this is just one of the courses that they run especially for fleets. Highways Driver Training is accredited by ROSPA and the Driving Standards Agency. For more information and details of all the courses, check their website.