Welcome to this special edition newsletter which celebrates raising over £30,000 for the Children's Adventure Farm Trust.
AN EVENING OF ENTERTAINMENT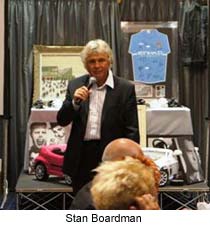 Collision Solutions sponsored an 'Evening of Entertainment' on Saturday night at The City of Manchester Stadium and raised over £30,000 for The Children's Adventure Farm Trust (CAFT). Comedian, Stan Boardman and local Swing Singer Cole Page entertained the guests during the evening with the highlight being the Charity Auction, where a limited edition Bronze head of L.S. Lowry by the sculpture Sam Tomkiss raised £5,000 and a painting by George Aird (a great friend of L S Lowry) of Lowry's 'Going to the Match' fetched over £2,000. Both items were donated by The Grove Fine Arts Gallery.



Lisa Quinn-Jones, Director of Collision Solutions said "This has been an amazing night, we are overwhelmed with the generosity of everyone, both the companies and individuals who have donated auction items and raffle prizes, as well as the guests who have dug deep into their hearts and pockets to support this very deserving charity".

Paul Farrington, Chief Executive Officer of CAFT said " We are extremely grateful to Lisa and Collision Solutions for their efforts as the evening was a great success and the money will be put to good use to enable disadvantaged and disabled children enjoy a holiday at the Farm. CAFT is a unique charity that has been providing life-changing holidays, daytrips and Christmas Parties to terminally ill, disabled and disadvantaged children since 1992. The Adventure Farm receives no funding from the government and relies on individuals and companies such as Collision Solutions to raise the £800,000 each year that it costs to run the Adventure Farm."

For further information on either the evening and/or Collision Solutions, please email: media@collisionsolutions.co.uk or call Lisa Quinn-Jones on 01706 227770 and for Information on the CAFT please go to their website http://www.childrensadventurefarm.org or call Julie Gray on 01565 830053.

RUBBING SHOULDERS WITH CELEBS!
The evening from a guest's point of view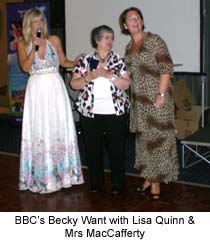 What a wonderful evening we had at the Collision Solutions Evening of Entertainment!

Jackie Ashworth started things off with her wonderful voice and saxophone... especially her incredible rendition of Baker Street! Rick Naylor entertained everyone with his amazing close-up magic at the same time – a great start to The Evening of Entertainment!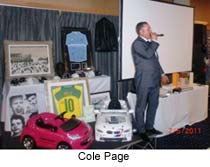 Then it was time to take our places for the meal and I was fortunate to have Stan Boardman, Becky Want and Rick Naylor on my table.

Becky was a delight to talk to and Stan was quite simply, one of the nicest guys I've ever met... a true gentleman and genuinely funny. As the food was served, Cole Page began to sing in his wonderfully charming manner, wandering around the tables singing some classic songs – 'Fly me to the Moon', 'It's a Wonderful World' amongst many more.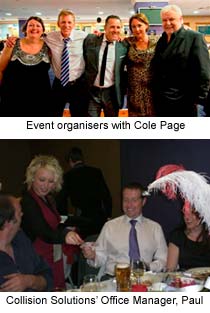 During 'Bo Jangles' he sat down next to Stan Boardman who promptly pinched Cole's mouth organ to prove that he's a better comic than musician!

Cole finished his act with over 200 people standing on their chairs, all swaying hand in hand and singing along to 'That's Amore'!

Once the dinner was over, Stan took to the stage and had the audience in tears with a hilarious routine which culminated with the infamous 'Fokker' joke!

A little later, I was intrigued to turn round to see Stan & Rick showing each other card tricks... they'd make a great double act!

This was truly an evening which I'll never forget and, more importantly, will ensure that many deserving children will enjoy a holiday at The Children's Adventure Farm that they will never forget.

Roger Green of COBRA UK & Ireland Ltd

OH WHAT A NIGHT!

And yes it was, a lot of hard work and effort but how rewarding with it all culminated in a very enjoyable evening. Full of fun, lots of laughs, and I am sure some fairly hefty hangovers on the Sunday morning for some. When back in October last year when Lisa phoned me to say that she was organising this and the date was set for may – I said she was mad as it takes a year to organise an event like this, but no, Lisa said it was possible and she was right, it was and I for one must hand it to her as the evening was a great success and raised over £30,000 for the Children's Adventure Farm Trust.




What amazed me was not only the generosity of all the companies that we approached for items for both the auction and the raffle, but the fact that in the current economic climate how willing people were to dig deep into their pockets to bid so much for the items. We were absolutely over the moon when the girls from the Clarins Counter at Selfridges agreed to provide goody bags for all the guests as well as a hamper full of Clarins products for a special raffle and best of all came along to the event and kept all of the ladies make-up fresh throughout the evening.
 


Sarah Cooper-Williams, Marketing Manager, Collision Solutions.

Finally, to show our appreciation to everyone who donated toward making this event such a great success we have decide that a roll call of honour is required so here goes (and I hope that we have not forgotten anyone).

Ivan and George Aird (Grove Fine Arts)
Jim Wrynn
Nick Morgan of 6Box Events
Nigel Sharphouse of Glysha Project Management Solutions
Clarins
The Team at CAFT
Sue at Looking Good on Camera
Jim Ennis Construction Ltd
Williams BMW Manchester
Travel Moscow
D G Cummins Civil Engineering
Sale Sharks
Manchester City Football Club
Boodles Jewellery Store
Buckley Scott Associates
Ringway Golf Club
Chambers Hair Design
Nutters Restaurant
La Vina
Westway Nissan
Baker Street Clothing
COBRA Insurance
Audi Manchester
Robins and Day Peugeot
The Bulls Head – Hale Barn
UDP Ltd
Stratstone Land Rover – Cheltenham
Harrington Hallworth Jewellers
Wendy Mallas
Kershaw Print
UDP Ltd
Roger Green
Special thanks go to:
Julie Gray of Caft
Kevin our Auctioneer
MCFC and Staff